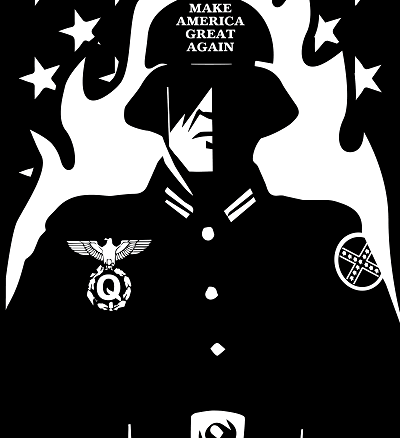 The Coalition for Police Transparency and Accountability (CPTA), comprised of over 17 grassroots organizations in Detroit, was formed in response to the July 10, 2020 execution of Hakim Littleton, a 22-year-old African American male, by Detroit police officers. In press conferences following the incident, Trump-supporter Police Chief James Craig attempted to cover up the fact that Littleton had been murdered. CPTA demanded an independent investigation of the murder, and called for an intensification of community efforts to stem police violence in the Detroit metro area. We in CPTA believe that the January 6, 2021 coup attempt on the US Capitol holds many lessons for us who have been resisting police violence in our communities throughout the United States.
President Trump incited thousands of white supremacist insurrectionists to violently storm the US Capitol Building, seeking to upend the electoral process so that Trump, a delusional autocrat, could remain in power despite his recent certified electoral defeat. They came with the intent to assassinate anti-Trump government officials, including Speaker of the House Nancy Pelosi, US Congressman James E. Clyburn, Vice-President Mike Pense, Congresswoman Maxine Waters, Congresswoman Alexandria Ocasio-Cortez, Congresswoman Rashida Tlaib, as well as other Democrats and Republicans who did not support their insurgency. Ultimately, they came to install Trump as a dictator and establish a white supremacist government.
The insurgents' violent intentions were apparent in their military cell units — kill teams — dispersed and coordinated in the large crowd. They were a well-organized, military-trained militia, identified by their combat uniforms and military-styled "hand-to-shoulder" formations, consistently used by elite military units in preparation for seizing a building. Five people died as a result of their reckless actions. A dry run for this assault had occurred at the Michigan State Capitol, where investigative evidence has confirmed that a Trump-inspired, terrorist white nationalist coalition had planned to assassinate Governor Gretchen Whitmer, and later targeted Jocelyn Benson, Michigan's Secretary of State. These criminals openly brandished their military-grade automatic weapons inside and outside the Michigan Capitol Building.
During the attack on the US Capitol, complicit US Capitol police were captured on video, proudly taking selfies with insurgents and wearing red pro-Trump hats. We watched as they eagerly removed barricades and stepped aside to allow the violent mob to enter the Capitol Building. They even directed the insurgents through the labyrinth of the Capitol corridors to find their targets. The FBI, the Secret Service, the Capitol police, and other law enforcement agencies warned that such violent acts were imminent, but stood down. The complicity of these government forces has been confirmed by reputable news agencies.
CPTA sees this attack by white supremacist groups and their government collaborators as an escalating threat to the safety of all citizens, not only elected officials. These insurgents live among us. They do not believe in racial equality. They do not respect the rights of people of color. They resent that people of color have the right to vote and may constitute the majority. They fear the demise of the world of white dominance that they have known and enjoyed. Most threatening to all of us, they believe they are justified in using violence to impede change, to ensure the continuation of their privilege and political agendas.
Police and other law enforcement agents were a significant cohort of the insurrection, where assumptions of racial superiority, white privilege, entitlement, and white male authority were on full, barbaric display. Perhaps this ruthless face of white supremacy was new to some. It was not new to African Americans and other people of color in the United States. We see it routinely in the police officers who terrorize our communities with impunity.
We call upon all citizens to recognize the deadly intent of policing in our communities by forces similar to those who vandalized the US Capitol. The January 6 assault is a wake up call to those who continue to dream of and advocate for police reform. Though Detroiters have fought for decades to reform the Detroit Police Department, police in Detroit are still brutalizing citizens, and still murdering African Americans. Since 2008, Detroit has paid out nearly $27 million in tax dollars to settle police violence lawsuits, "much higher than what similarly sized cities have paid out…. But the disparity is even bigger than that [because there were] several large lawsuit settlements that city officials never disclosed" (Ross Jones, 7 Action News WXYZ). The Detroit police chief is still attempting to cover up or justify excessive violence, and the doors to all the agencies responsible for police oversight and redress of grievances are closed to the people.
From its inception, the function of policing in the United States has been to intimidate, contain, restrain, oppress, brutalize and murder Africans and other people of color. That function has not changed over the centuries. The underlying objective has been genocide against African Americans, so that from the beginning to this very day, unjust arrests, incarceration and killing of Black men have been police priorities. This historical fact explains why the law enforcement agents at the US Capitol did not brutalize, arrest or kill the insurgents. White police know that their duty does not include inflicting harm or injury on other whites. They serve the ruling class as domestic troops in a war against people of color. Their consistent use of excessive force, riot gear, toxic gas, tanks and other military-style weaponry against Black Lives Matter demonstrators illustrates this fact.
In CPTA we are bringing to light this essential truth about the role of police, so that we can be free of lies such as "the police are our friends, they keep us safe" that continue to confuse so many. As we understand more clearly the historical function of policing, we can intensify our efforts to end the police violence that devastates our communities, and keeps us in perpetual grief over the loss of our young men and women, our future. Having freed ourselves from this long-standing, debilitating deceit, we will carry out the work of devising new policies and agencies of community safety.